Are you locked out of your Samsung Galaxy J5? Is there something wrong with the software and you need to reset it? Or do you need to ensure your personal data is wiped clean before you sell your phone? Whatever the reason, just follow this guide and your device will be factory-fresh in no time!
Performing a factory reset – sometimes known as a 'hard reset' – will remove all of the personal user data from your device, including photos, contacts and text messages. If you want to keep any of this information, you'll need to make sure you back it up first. If you want to find out how to backup a Samsung Galaxy J5 keep an eye on our website from time to time.
How To Reset Samsung Galaxy J5 From Settings Menu is something many owners of the phone have been searching on Google and YouTube continuously. Here is something which we think can help you reset your Samsung Galaxy J5 with ease.
If your phone is functioning fine and you can access its Settings menu, then this is by far the easiest way to perform the factory reset.
Steps for How To Reset Samsung Galaxy J5 From Settings Menu
1 Start off by going into the Settings app.
2 Find and tap on the section called Backup and reset.
3 Tap on Factory data reset at the bottom. You will told at this point if you are signed in to a Google account – if so, remove this first using the steps below.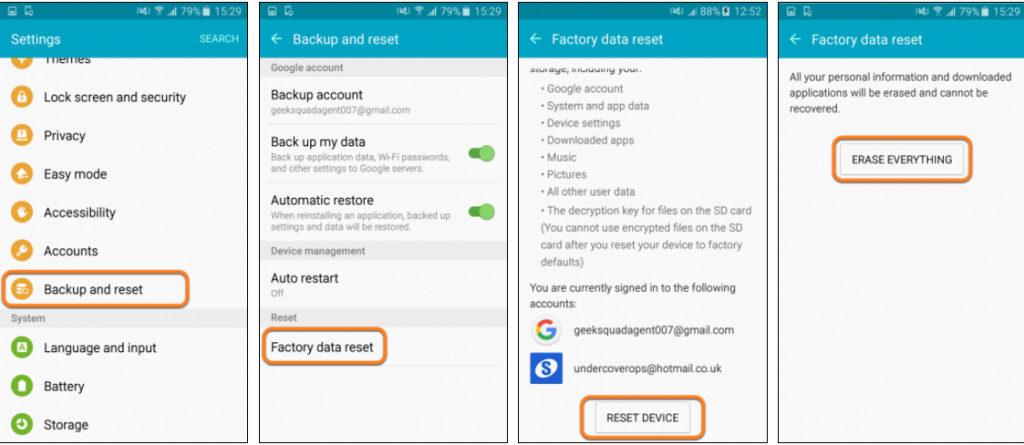 4 Now tap Reset device.
5 Finally, press Erase everything.
6 Wait for a few minutes while the reset is performed.
Once it's finished and you're back to the J5's initial setup screens
Hope this guide on – How To Reset Samsung Galaxy J5 From Settings Menu helped.
Watch the video below for more info