Apple's Phil Schiller called the new iPhone 5 "the world's thinnest smartphone", but there were various other manufacturers who have made similar claims previously.
How much of it is actually true, if so, is the new iPhone actually the thinnest?
Take a look at the table below, where I have stated various smartphones against Apple's iPhone 5.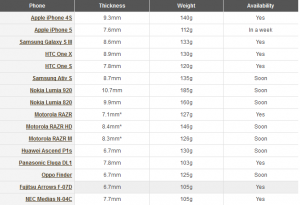 To summarize, the iPhone 5 is definitely not the thinnest smartphone in the world.
Fujitsu Arrows F-07D is the thinnest smartphone as far as currently available devices go. You may not come across this device in the market, but it does exist.
If you know of another smartphone which is much more thinner and slimmer, do share in the comments below.